We have occasionally seen mistakes on the cover of "Allure" but the most recent cover of the beauty magazine was really on spot as it presented the stylish cover to celebrate "the beauty of diversity". Famous photographer Patrick Demarchelier has taken the images of Aamito Lagum, Dilone and Imaan Hammam to beautify the cover of the magazine.
Many appreciated the beauty and grace of the cover. Sixtdaily says that the Allure's cover for March with Allison Williams was really annoying but the recent one was really remarkable as all the three girls were suitable for the cover as they were harmonizing each other very well. Their composed expressions are appreciable.
TREVOFASHIONISTA said that it is the ideal cover of Vogue while RanThe had the opinion that this should be the March cover of the magazine as it was truly stunning and superb.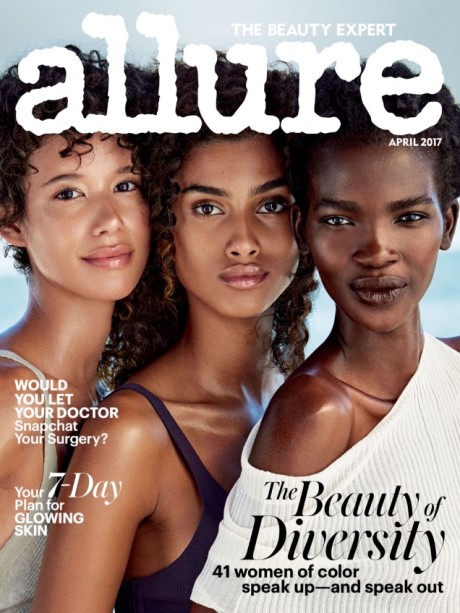 Thatsfierce also praised the cover specially at the presence of Aamito while Apple also have same emotions but his favorite model was Imaan as she was looking fabulous.
Happycanadian said that this cover was really fresh and beautiful while the expression of all these models was very natural.
Benn98 had the view that it was a strong and beautiful cover as it was quite well presented was dark to light. He liked all the girls especially Aamito as magazines usually don't take such face on their covers. SussyBela also declared the cover attractive and strong.