Guess who was seen doing costume shopping? Angelina Jolie with Shiloh and her twins were seen shopping for costumes. Angelina Jolie was seen carrying Knox on her hip and Shiloh with Vivienne coming out of a Halloween costume store in LA yesterday.
The adorable Vienne was wearing a pink unicorn costume while Knox was seen holding an alligator toy. The family had enjoyed a lot especially the twins, as they met their friends in the Park on Saturday.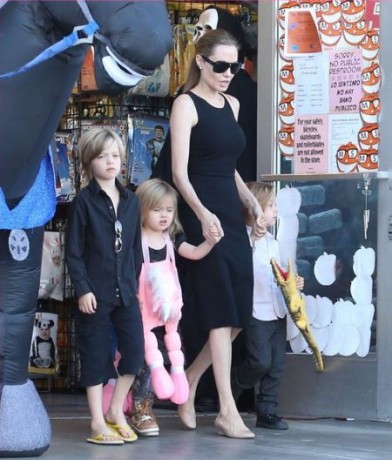 In London, Angelina Jolie filmed a Disney movie Maleficent in which Pax, Zahara and Vivienne are working, this film will release in 2014. After this work, Angelina has been spending time in West Coast. Nowadays Brad has become very famous after his numerous parodies and ads, he also worked on a skit called Saturday Night Live.