Sir Elton John has refused to perform in the oath taking ceremony of the newly elected American president, Donald Trump. He said there will not be a savage but humanly nature person should be there in White House. He also said what he will make America great as America is already great because Hillary has already contributed her role in making US great.
The 5 times Grammy Award winner, Sir Elton John supported Hillary Clinton for presidential election and he has been performing in the election campaign of Hillary and the Democratic Party. The newly elected president, Donald Trump considers him close to him and he sent the special message of congratulation to him on his wedding with David Furnish.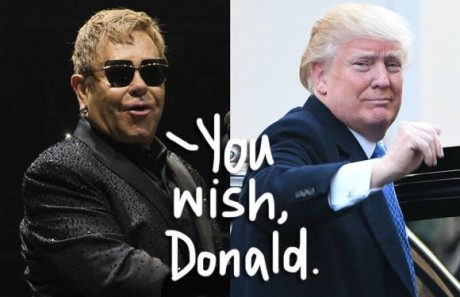 Now Trump administration said that the president is supporter of homosexual and it will be a historical moment for Sir Elton John to attend the oath taking ceremony and the close sources of Elton John said that he will not show his performance there. He sang the song, 'Candle in the Wind' is the memorable one, which he sang in the memory of
and about three crore and 30 lac CDs were sold. John Elton is the academy award winner singer and he has been performing in singing for last five decades and he is one of the very expensive singers of the world. He performed in a marriage of the host f radio six years before and he received 10 lac dollars to perform during the show.