With the variety of fashion shoes spreading in the market, it also include the shoes made from the parts of dead animals like some shoes prepared from wings of dove or made of horse hooves and they seem like the hooves of the animals which gives very strange but innovative look to the viewers. The shoes are found in the range of Iris Schieferstein made from dead animals. The shoes are very costly and cannot be afforded by most of the people. The pop singer, Lady Gaga bought a pair of shoes designed by a German designer last year which look stunning and elegant.
The new emerging fashion designer, Iris belongs to Berlin who designed shoes with horse hooves styles which shows his passion with two passions. The shoes designed with the snake skin and its heels made from the replica pistols and also show that the animal is eating its own tail. The shoes designed with the hooves of horse style or designed in snake skin style look great and unique which never found any other place. The horse hooves styled shoes with zip up to the front with intact hoof and use bone of horse as heels of the shoes.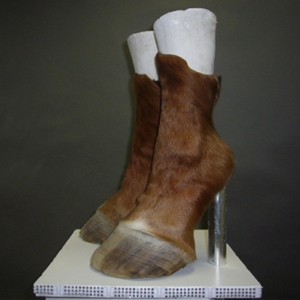 It is very difficult task for making shoes from the body parts of the animals as government does not allow the killing of animals. For which he was about to be in prison but now she started taking hooves or other body parts from the butcher of their market who provides them for designing shoes in innovative styles and trends. She collects the remaining of the dead or slaughtered animals and designs shoes. According to the designer, she collects the body parts of the dead animals and stripped out the meat and bones from the feet of the dead animals and then the skin hand over to the tanner who tans the skin and makes it suitable for using in the manufacturing of shoes. This process of stripping and tanning takes about one week
These shoes give you astonishing looking but they will not give you comfort  while using it and it also cannot be used for more than 2 hours.