Do you know her?
An American actress and voice artist, Milena Markovna "Mila" Kunis, was born on August 14 1983, in Chernivtsi, Ukrainian SSR, Soviet Union. At age nine, Kunis was enrolled by her father in acting classes after school at the "Beverly Hills" Studios, where she met Susan Curtis, who would become her manager. On her first audition she landed the role for a "Barbie" commercial. "GQ" magazine named Kunis the "Knockout of the Year" for 2011. "FHM" magazine ranked her "number 9" on its 2012 "Hot 100 list." Christian Dior signed Kunis in 2012 to be the face of its "Spring fashion" campaign. In January 2011, she revealed her struggle with an eye condition called chronic "iritis," that had caused blindness in one eye.
Her Acting Career:
Kunis starred as "Rachel Jansen" in the 2008 comedy film, "Forgetting Sarah
Marshall," co-produced by Judd Apatow. The role, which she won after unsuccessfully auditioning for "Knocked Up," entailed improvisation on her part. The film garnered positive reviews, and was a commercial success, grossing $105 million worldwide. Also in 2008, Kunis portrayed "Mona Sax," an assassin, alongside Mark Wahlberg in the action film "Max Payne," based on the "video game" of the same name. Max Payne was relatively successful at the box office, grossing $85 million worldwide.
In 2009, she appeared in the comedy film "Extract" with "Ben Affleck" and "Jason Bateman." The film received mostly positive reviews, and grossed $10.8 million at the box office. In 2010, she starred alongside "Denzel Washington" in the action film "The Book of Eli." Although the film received mixed reviews, it performed well at the box office, grossing over $157 million worldwide. "Maxim" has consistently ranked Kunis on its Hot 100 list, reaching a ranking of number 5 in both 2009 and 2011, and number 3 in 2012.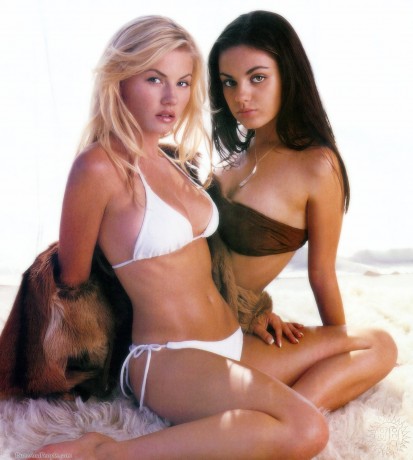 Awards:
She was nominated for a "Teen Choice Award." Her movie "Friends with Benefits" earned her a nomination in "Rembrandt Awards" for "Best International Actress," in 2012.
For her work in "Black Swam," she won the "Screen Awards" in 2011.