Do you know Miley?
Miley Ray Cyrus, an American actress, dancer, musician and singer-songwriter, was born on November 23 1992, in Nashville, Tennessee, U.S. She achieved wide fame for her role as "Miley Stewart/Hannah Montana" on the "Disney Channel" sitcom "Hannah Montana." Cyrus said watching her father film the show inspired her to pursue acting. In her first role, Cyrus played a girl named Kylie on "Doc." In 2008, Cyrus earned $25 million, up from her earnings of $18 million in 2007, and was ranked number 35 on "Forbes" magazine's "Celebrity 100" list. At the end of 2009, Billboard magazine ranked Cyrus the "fourth best-selling female artist" and the "fifth best-selling singer" overall. In 2009, at the age of sixteen, she became the youngest artist to have four number one albums on the charts.
Her Career as a Singer:
Hannah Montana became an instant hit and had "teen idol" status. On October 24 of 2006 "Walt Disney Records" released the first "Hannah Montana soundtrack."The album peaked at number one on the U.S. "Billboard 200" chart. Cyrus signed a four-album deal with Disney-owned "Hollywood Records" and, on June 26, 2007, released a double-disc album. The double-disc album peaked at number one on the Billboard 200, and was later "certified three times platinum" by the "Recording Industry Association of America" (RIAA). Cyrus is currently working on her fourth "studio album" with various producers, including "Pharrell Williams" in Miami and L.A.-based "Hit-Boy."
Her Career as an Actor: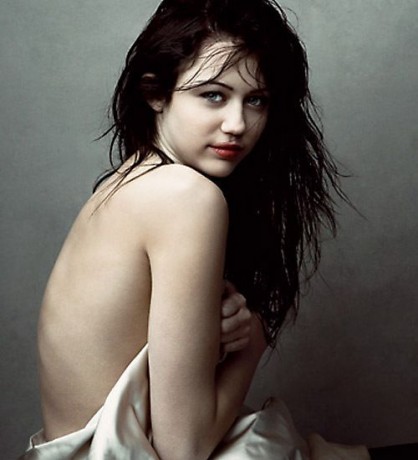 Cyrus starred as Miley Stewart/Hannah Montana in "Hannah Montana: The Movie," released April 10, 2009. Both the film and its soundtrack, which contained twelve songs performed by Cyrus, achieved commercial success. Between June 2009 to June 2010 made her the "no. 4 highest" earners under 30 and the youngest on the list. For the 2011 "Guinness World Records," she was named the "Most Charted Teenager" following her 29th US Billboard Hot 100 chart entry on November 7, 2009.
Awards:
Cyrus earned a nomination for the "Golden Globe Award for Best Original Song" for her performance of Bolt's theme song, "I Thought I Lost You."